In 9MCY23, the company reported a profit of PKR 903.14 million (EPS: PKR 26.47), marking a 38% YoY decline from PKR 1.5 billion (EPS: PKR 43) in the same period last year. This decrease in profitability was primarily attributed to higher finance costs and exchange losses, which had a negative impact on the company's bottom line.
During the same period, the company's net revenue increased by 8% YoY to PKR 21 billion, while the cost of sales rose by 13% YoY to PKR 15.6 billion. Additionally, administrative expenses saw a significant increase, growing by 30% YoY and 34% QoQ. The company's gross profit decreased by 3% YoY in 9MCY23 and 7% QoQ in 3QCY23.
One notable factor was the substantial increase in ARPL's finance costs, rising by 143% YoY, although they declined by 28% QoQ during the review period. The higher interest rates and KIBOR rates contributed to this significant rise in finance costs.
Management pointed out that in 2022, the company successfully completed the global acquisition of Huntsman Textile Mills and the local acquisition of Archroma Chemicals Pakistan (Pvt) Limited. Currently, the company is working on merging the local acquisition into Archroma Pakistan Limited, pending a decision from the Sindh High Court.
The company's business segments are divided into Textile Effects (88%) and Packaging & Paper Coating (12%). In the same period, sales for Textile Effects and Packaging & Paper Coating increased by 5% YoY and 46% YoY, respectively.
Management noted that local and export demand remained under pressure, leading to a 50% reduction in production during 9MCY23. Nevertheless, the company managed to increase sales by 8% YoY. Local sales saw a 10% YoY increase, while exports grew by only 1% YoY, primarily due to the impact of an earthquake in Turkey affecting the company's exports.
The company is actively expanding its presence in the home care and construction industries, collaborating with market leaders to diversify its portfolio.
The production capacity of the company's different plants includes Dyes/OBAs (12,000 tons), chemicals (24,280 tons), pigments (1,520 tons), and emulsions (52,220 tons), with a total capacity of 108,020 tons per annum.
Going forward, ARPL expects a decrease in finance costs for the next year. Management anticipates improved margins since the prices of the products are dollar-linked. The company's localization efforts are considered a significant advantage, and the merger of Huntsman is expected to drive aggressive turnover growth in the coming year.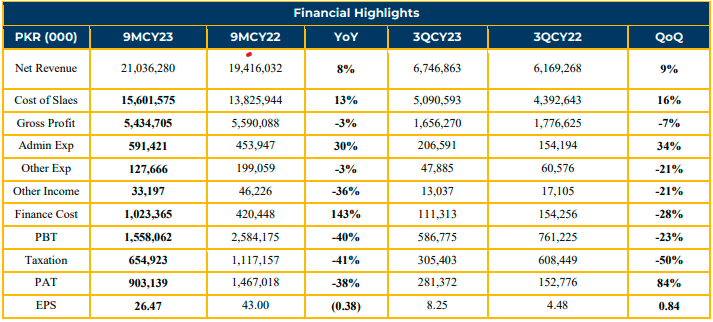 Important Disclosures
Disclaimer: This report has been prepared by Chase Securities Pakistan (Private) Limited and is provided for information purposes only. Under no circumstances, this is to be used or considered as an offer to sell or solicitation or any offer to buy. While reasonable care has been taken to ensure that the information contained in this report is not untrue or misleading at the time of its publication, Chase Securities makes no representation as to its accuracy or completeness and it should not be relied upon as such. From time to time, Chase Securities and/or any of its officers or directors may, as permitted by applicable laws, have a position, or otherwise be interested in any transaction, in any securities directly or indirectly subject of this report Chase Securities as a firm may have business relationships, including investment banking relationships with the companies referred to in this report This report is provided only for the information of professional advisers who are expected to make their own investment decisions without undue reliance on this report and Chase Securities accepts no responsibility whatsoever for any direct or indirect consequential loss arising from any use of this report or its contents At the same time, it should be noted that investments in capital markets are also subject to market risks This report may not be reproduced, distributed or published by any recipient for any purpose.