The gross profit for FY23 soared to PKR 6.45 billion, indicating a substantial 137% YoY increase, accompanied by an improvement in gross margins from 11% to 15%, showcasing enhanced operational efficiency. Despite the heightened sales, careful cost management is evident as the cost of sales
increased by 59%.
The operating performance of the company witnessed a significant boost, with profit from operations reaching PKR 4.25 billion, marking a remarkable 178% YoY rise. However, this growth was accompanied by an increase in distribution costs and administrative expenses by 73% and 64%, respectively.
The financial cost also rose by 42% to PKR 552 million in FY23, indicating increased financial activities. Profit before taxation saw a substantial 225% YoY growth, reaching PKR 3,698,116.
The profitability metrics reflected a robust performance, with profit for FY23 standing at PKR 2.2 billion, representing a significant 219% YoY growth. Earnings per share (EPS) also increased significantly to 62.86, marking a 219% YoY rise.
Dividend per share (DPS) rose substantially to PKR 32.50, demonstrating a 160% YoY increase, with a non-comparable (NM) figure of PKR 10.00 distributed in 4QFY23. Overall, Atlas Battery Limited's FY23 financials reflect a resilient and dynamic performance, characterized by substantial growth in sales, profitability, and shareholder returns.
Examining market trends, Atlas Battery Limited observes that while solar imports have shown limited growth, local batteries currently meet a substantial 90% of the demand. The company is aware of the dynamics surrounding imported batteries, particularly those from China. Despite acknowledging their higher quality, affordability considerations for the local market remain a challenge.
The electric vehicle (EV) battery segment presents an uncertain outlook, given the negligible market share of around 50,000 units. Until local production of EVs becomes established, batteries are expected to be imported rather than produced domestically. Factors such as increased battery prices in relation to production costs contribute to the complexity of the market.
Atlas Battery Limited indicates that the majority of its sales, ranging between 90-95%, are derived from the replacement market. Notably, the company demonstrates resilience in the face of declines in the car market. However, recent trends show a 50% increase in battery prices, driven by increased input costs due to higher electricity prices.
In terms of the supply chain and inventory management, the company discloses that approximately 55-60% of its products are directed towards UPS and solar markets, with the remainder catering to the automobile sector. A noteworthy aspect is the reliance on locally produced raw materials, with around 85% sourced domestically. This strategy mitigates the impact of exchange rate fluctuations.
In a competitive analysis, Atlas Battery Limited distinguishes itself by being the only company partnered with a Japanese counterpart. This unique collaboration, while advantageous in many respects, imposes constraints in capturing market share due to stringent adherence to Japanese standards for quality assurance. In the Pakistani market, the leader remains Osaka batteries, while Atlas boasts the lowest claim rate, setting itself apart from competitors like Exide.
A notable aspect of Atlas Battery Limited's strategy is its commitment to product innovation. The company has expanded its product line to include batteries tailored for solar applications. This initiative aims to reduce wastage and claims in accordance with international standards while implementing decisive cost-cutting measures to enhance competitiveness. Emphasis on becoming a market leader involves focusing on volumes and establishing an exclusive nationwide network. Additionally, the company seeks to create a barrier to entry through the implementation of environmentally compliant manufacturing plants.
In terms of new product launches, Atlas Battery Limited has introduced several batteries, both for automotive and  motorcycle applications. Notable entries include the MF 100 and MF DIN 65 for automotive use, and Power Plus 2.5AH, Power Plus 7 AH, and Ronin 2.5 AH MF for motorcycles.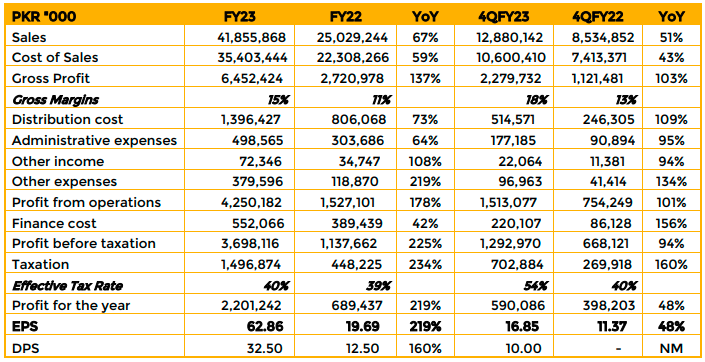 Important Disclosures
Disclaimer:This report has been prepared by Chase Securities Pakistan (Private) Limited and is provided for information purposes only. Under no circumstances, this is to be used or considered as an offer to sell or solicitation or any offer to buy. While reasonable care has been taken to ensure that the information contained in this report is not untrue or misleading at the time of its publication, Chase Securities makes no representation as to its accuracy or completeness and it should not be relied upon as such. From time to time, Chase Securities and/or any of its officers or directors may, as permitted by applicable laws, have a position, or otherwise be interested in any transaction, in any securities directly or indirectly subject of this report Chase Securities as a firm may have business relationships, including investment banking relationships with the companies referred to in this report This report is provided only for the information of professional advisers who are expected to make their own investment decisions without undue reliance on this report and Chase Securities accepts no responsibility whatsoever for any direct or indirect consequential loss arising from any use of this report or its contents At the same time, it should be noted that investments in capital markets are also subject to market risks This report may not be reproduced, distributed or published by any recipient for any purpose.