In 1QFY24, Attock Cement Company Limited witnessed a substantial surge in net profitability, reaching PKR 1.54 billion (EPS: PKR 11.23) compared to PKR 115.66 million (EPS: PKR 0.84) in the same period last year.
The company's revenue increased by 53% to PKR 6.67 billion in 1QFY24, up from PKR 4.36 billion the previous year, driven by higher domestic cement sales and increased revenue from cement prices. However, exports declined due to toughcompetition in international market.
Gross profit rose by 54% to PKR 1.13 billion, compared to PKR 735.49 million the previous year. While distribution expenses increased by 82% and admin expenses by 1% in 1QFY23, finance costs reduced by 73% due to loan repayment from cash generated by divesting the Iraq
subsidiary. The Company earned PKR 2.19 billion from the Iraq divestment due to limited corporate practices in Iraq, making it non-viable.
The company reported improved gross profit margin and operating margin at 22% and 12% respectively in FY23. Dependence on the national grid reduced to 36% in FY23, and 20% imported coal was replaced by local coal. A 21 MW solar power project was completed in 2021, further increasing the capacity by 1.3 MW.
With a total installed capacity of 2.88 million metric tons, the Company is expanding production capacity by installing Line-4 (4,000 tons per day), expected to be completed by 1QFY24, with total capital expenditures reported at USD 100 million. However, 80% of the project cost has been incurred.
Total industrial capacity declined by 16% YoY in FY23, and utilization was reported at 60%, lower than the previous year's 75%. ACPL had a 30% surplus of total installed capacity (3 million tons per day). Local cement dispatches and export dispatches were reported at 1.4MTPD and 0.70MTPD respectively in FY23.
Clinker production reduced to 1.9 million tons in 1QFY24 from 2.2 million tons in 1QFY23, and total dispatches declined to 2.1 million tons in 1QFY24 from 2.3 million tons in the SPLY. However, clinker dispatches increased to 548 thousand tons from 506 thousand tons.
The company's total debt stood at PKR 10.56 billion against an equity of PKR 20.51 billion in 1QFY24. Capital expenditures amounted to PKR 5.06 billion during FY23. The dividend payout ratio improved to 54% in FY23 compared to 43% in the SPLY.
Sea freight costs were reported at $20. ACPL relies on 80% imported coal and 20% local coal, with the landed cost of coal at PKR 45,000 per ton. The energy mix comprises 80% from WHR and solar power and 20% from the grid, with a grid tariff of 39/Kwh in 1QFY24.
Regarding Thar Coal, the management noted its higher price and lack of viability, suggesting government policy could play a role. Afghan coal is seen as viable for North regions.
Going forward, the management anticipates continued pressure on profitability due to increased coal and gas prices and limitations on price increases. The Company is also exploring higher clinker exports to Bangladesh.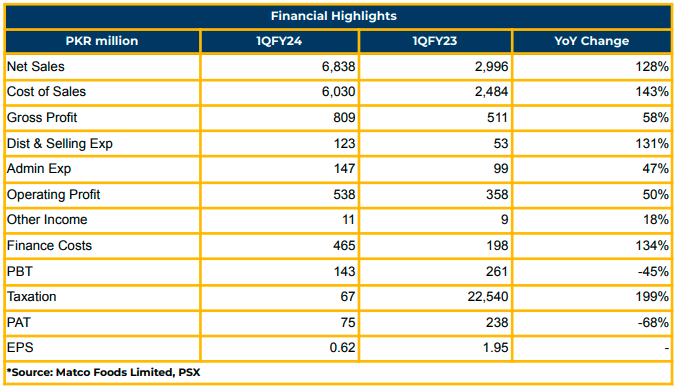 Important Disclosures
Disclaimer: This report has been prepared by Chase Securities Pakistan (Private) Limited and is provided for information purposes only. Under no circumstances, this is to be used or considered as an offer to sell or solicitation or any offer to buy. While reasonable care has been taken to ensure that the information contained in this report is not untrue or misleading at the time of its publication, Chase Securities makes no representation as to its accuracy or completeness and it should not be relied upon as such. From time to time, Chase Securities and/or any of its officers or directors may, as permitted by applicable laws, have a position, or otherwise be interested in any transaction, in any securities directly or indirectly  subject of this report Chase Securities as a firm may have business relationships, including investment banking relationships with the companies referred to in this report This report is provided only for the information of professional advisers who are expected to make their own investment decisions without undue reliance on this report and Chase Securities accepts no responsibility whatsoever for any direct or indirect consequential loss arising from any use of this report or its contents At the same time, it should be noted that investments in capital markets are also subject to market risks This report may not be reproduced, distributed or published by any recipient for any purpose.