In 1QFY24, Attock Petroleum Limited achieved a positive net profitability, surging to PKR 5.26 billion (EPS: PKR 42.27), compared to PKR 4.29 billion (EPS: PKR 34.48) in the same period last year. This boost in profitability during the first quarter of FY24 was primarily driven by volumetric growth.
The company's sales increased by 9% YoY, reaching PKR 140.48 billion, with a gross profit increase of 3% amounting to PKR 10.27 billion. Profit before tax also increased by 36%, standing at PKR 8.77 billion.
The cost of sales rose by 11% YoY to PKR 126.17 billion in 1QY24 compared to PKR 113.94 billion in the same period last year. The company witnessed a decline of 50% and 28% in other income and other expenses respectively.
In FY23, APL posted a net profitability of PKR 12.46 billion, a 33% YoY decline. The gross profit of the Company also fell by 36% YoY to PKR 26.07 billion against PKR 41 billion in the SPLY. The net sales of the Company declined due to the fall in market share in FY23.
In FY23, the Company witnessed 24% YoY decline in average sales volume against 26% YoY dip. However, the average selling price increased by 60% YoY during the same period.
The finance cost of the Company decreased by 23% YoY to PKR 374.43 million in 1QFY24 compared to PKR 486.74 million during the same period last year.
APL successfully commissioned 32 new outlets and phased out nine retail outlets under a retail network purification plan in FY23. The total retail outlets stand at 754 across the country.
The company's market share grew by 1% to reach 10.1%, positioning it as the third-largest Oil Marketing Company (OMC) in Pakistan. For comparison, market shares of other key players were: PSO (49.7%), TPPL (10.2%), Shell (7.4%), GO (5.6%), Hascol (2.5%), P.Pearl (2.4%), and others (12%).
The Company operates eight storage terminals across the country with a total capacity of 192,397 metric tons. The Company reported that naphtha production is on a declining trend.
APL currently operates three EV stations in Islamabad with charging power up to 180 KW, the highest in Pakistan. The company also plans to target hotels like Serena and PC, clubs, highways, and shopping malls to offer EV facilities. The target is to open up 35 new EV stations by the end of this year. The EV facilities will be provided at motorways like M1, M3 and M5 by the end of this year.
The current cost was estimated at PKR 11-12 million, which is expected to come down to PKR 5-6 million next year.
The construction of Bulk Oil Terminals in Dera Ismail Khan is currently in progress and is anticipated to be finished by the end of 2023. This development will contribute an additional storage capacity of 17,500 metric tons.
Going forward, due to an aggressive marketing strategy, the management expects growth in lubricant sales. After upcoming elections in the country, the Company expects the bitumen sales to improve by next year.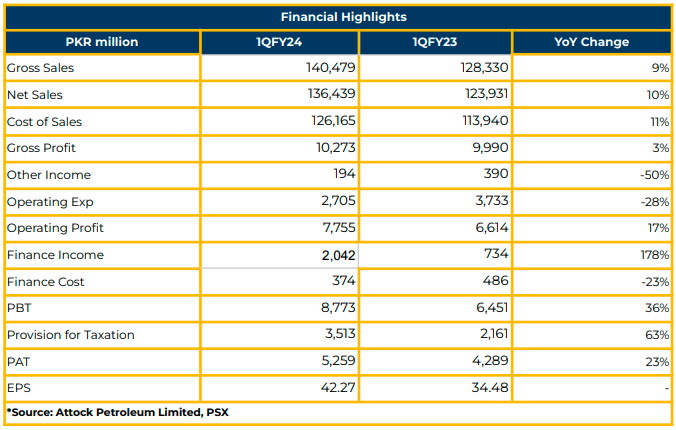 Important Disclosures
Disclaimer: This report has been prepared by Chase Securities Pakistan (Private) Limited and is provided for information purposes only. Under no circumstances, this is to be used or considered as an offer to sell or solicitation or any offer to buy. While reasonable care has been taken to ensure that the information contained in this report is not untrue or misleading at the time of its publication, Chase Securities makes no representation as to its accuracy or completeness and it should not be relied upon as such. From time to time, Chase Securities and/or any of its officers or directors may, as permitted by applicable laws, have a position, or otherwise be interested in any transaction, in any securities directly or indirectly subject of this report Chase Securities as a firm may have business relationships, including investment banking relationships with the companies referred to in this report This report is provided only for the information of professional advisers who are expected to make their own investment decisions without undue reliance on this report and Chase Securities accepts no responsibility whatsoever for any direct or indirect consequential loss arising from any use of this report or its contents At the same time, it should be noted that investments in capital markets are also subject to market risks This report may not be reproduced, distributed or published by any recipient for any purpose.