In 1QFY24, Attock Refinery Limited (ATRL) achieved a net profitability of PKR 11.46 billion (EPS: PKR 107.53), a significant improvement from the net profitability of PKR 7.30 billion (EPS: PKR 68.50) in the SPLY. This boost in profitability during the 1QFY24 was primarily driven by an improvement in the spread between the prices of product and crude oil.
During this period, the company earned PKR 11.22 billion from refinery operations and PKR 241 million from non-refinery operation. ATRL operated at a production capacity of 81% during the 1QFY24 and supplied 457 thousand metric tons of petroleum products. Following a crackdown on smuggling, the company experienced normal High-Speed Diesel (HSD) sales.
In FY23, the refinery's throughput was 1.88 million tons with net sales of PKR 369.22 billion and net profitability of PKR 29 billion. The company's market share in refining stands at 8%, competing against imports (50%), PARCO (22%), NRL(8%), PRL (5%), Cynergico (5%), and others (2%).
ATRL observed an improvement in refining margins in FY23 and initiated the production of 91 RON PMG. Additionally, ATRL successfully repaid all outstanding amounts in FY23 due to its stellar profitability, leading to the announcement of a 125% cash dividend.
The management shared that LCs were resumed, but recent restrictions on LCs pose a challenge for the company. ATRL produces the lowest furnace oil in the industry, reported at 15%, and the management expects the furnace oil demand to decrease in winter.
ATRL manages a storage capacity in Karachi for FO and plans to export the additional capacity (30,000 tons). The company procures crude oil from North and plans to source 5000 barrels from the South. The government has given its principal agreement for this initiative.
The Gross Refinery Margin (GRN) was reported at $20/barrel in 1QFY24. The management emphasized that focusing on motor gasoline and value-added products is more feasible than the bottom of the barrel. The Company does not produce naphtha.
Going forward, the management intends to undertake upgradation projects to produce Euro-V Motor Gasoline and High-Speed Diesel (HSD) under the new refining policy. The debt-to-equity ratio for this project will be 30% debt and 70% equity. The estimated cost of this project is USD 500 million over a timeline of six years. As a result, the company expects to save PKR 17 billion in costs and penalties and increase Euro-V Motor Gasoline production by 25%.
Additionally, the management anticipates signing an agreement on the refinery policy regarding escrow accounts before November 16, 2023.
The company anticipates challenges in crude oil availability but also expects positive outcomes from new explorations.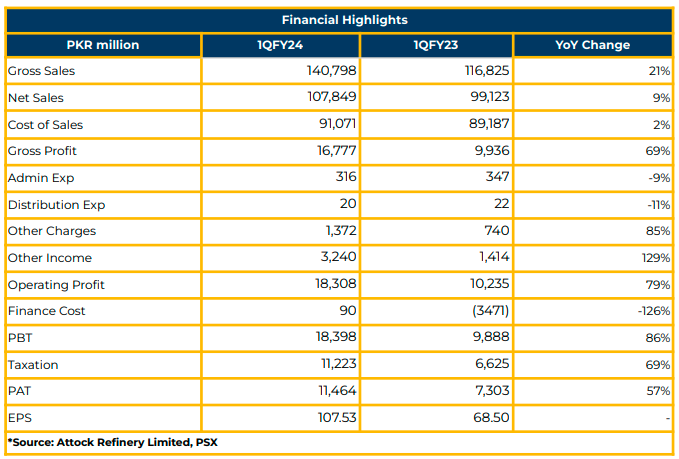 Important Disclosures
Disclaimer: This report has been prepared by Chase Securities Pakistan (Private) Limited and is provided for information purposes only. Under no circumstances, this is to be used or considered as an offer to sell or solicitation or any offer to buy. While reasonable care has been taken to ensure that the information contained in this report is not untrue or misleading at the time of its publication, Chase Securities makes no representation as to its accuracy or completeness and it should not be relied upon as such. From time to time, Chase Securities and/or any of its officers or directors may, as permitted by applicable laws, have a position, or otherwise be interested in any transaction, in any securities directly or indirectly subject of this report Chase Securities as a firm may have business relationships, including investment banking relationships with the companies referred to in this report This report is provided only for the information of professional advisers who are expected to make their own investment decisions without undue reliance on this report and Chase Securities accepts no responsibility whatsoever for any direct or indirect consequential loss arising from any use of this report or its contents At the same time, it should be noted that investments in capital markets are also subject to market risks This report may not be reproduced, distributed or published by any recipient for any purpose.