In 1QFY24, Colgate-Palmolive (Pakistan) Limited experienced a significant increase in net profitability, reaching PKR 3.7 billion (EPS: PKR 15.24) compared to PKR 1.72 billion (EPS: PKR 7.07) in the same period last year.
The company's turnover surged by 43% to PKR 36.49 billion in 1QFY24, up from PKR 25.51 billion the previous year. Gross profit and operating profit rose by 76% and 131% respectively in 1QFY24.
Selling & Distribution expenses increased by 32% and Administration expenses by 20%. Finance cost of COLG grew by 5% to PKR 39 million in 1QFY24 from PKR 37 million in SPLY. The taxation drastically increased by 168% YoY to PKR 2.31 billion from PKR 863 million in SPLY.
In FY23, the Company achieved over PKR 100 billion in sales and recorded a profitability of PKR 10 billion. The dividend payout ratio increased to 90% in FY23 from 67% in FY22.
During FY23, Colgate-Palmolive relaunched Colgate and initiated local production of toothbrushes. The management also introduced new Integrated Marketing Campaigns (IMC's) for personal care and fabric care products.
The management emphasized four growth pillars: (1) Consistent Media Presence, (2) Consumption Building, (3) Consumer Engagements, and (4) Winning in Key Retail Environments.In category growth initiatives, the Company promotes products through initiatives like BSBF and the Global
Art Contest.
Under the 'Keep Pakistan Smiling' campaign, the Company conducted over 540 thousand free dental checkups in twenty-one cities in Pakistan during Oral Health Month 2023.
In the past four years, COLG has conserved 23% of energy by implementing solar systems. In collaboration with Punjab and Sindh Environmental Protection Agencies, the Colgate-Palmolive planted 33,000 trees to safeguard the environment. Additionally, COLG effectively minimized plastic waste by 32,000 KGs as part of its initiative to reduce plastic consumption.
Going forward, the management addressed the persistent challenge of counterfeiting in the consumer products market in Pakistan. The Company remains proactive, taking legal action against perpetrators who are counterfeiting the products throughout the year.
The management emphasized that the Company will face ongoing challenges due to PKR devaluation, upcoming general elections, interest rate hikes, increased inflation, and counterfeiting.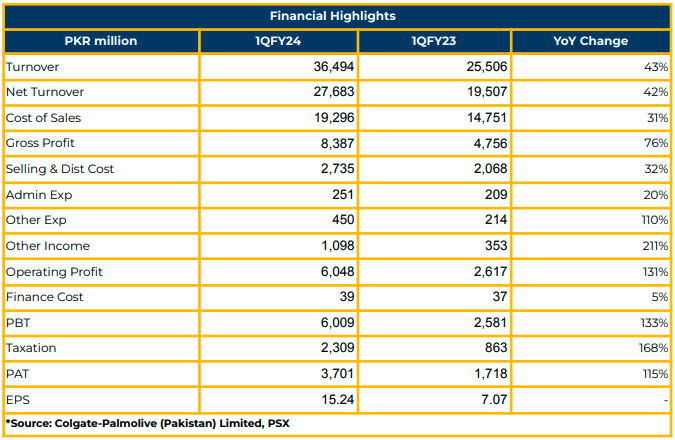 Important Disclosures
Disclaimer: This report has been prepared by Chase Securities Pakistan (Private) Limited and is provided for information purposes only. Under no circumstances, this is to be used or considered as an offer to sell or solicitation or any offer to buy. While reasonable care has been taken to ensure that the information contained in this report is not untrue or misleading at the time of its publication, Chase Securities makes no representation as to its accuracy or completeness and it should not be relied upon as such. From time to time, Chase Securities and/or any of its officers or directors may, as permitted by applicable laws, have a position, or otherwise be interested in any transaction, in any securities directly or indirectly subject of this report Chase Securities as a firm may have business relationships, including investment banking relationships with the companies referred to in this report This report is provided only for the information of professional advisers who are expected to make their own investment decisions without undue reliance on this report and Chase Securities accepts no responsibility whatsoever for any direct or indirect consequential loss arising from any use of this report or its contents At the same time, it should be noted that investments in capital markets are also subject to market risks This report may not be reproduced, distributed or published by any recipient for any purpose.