The landed cost of Richards Bay coal has decreased to approximately PKR 38,000 per ton, and after factoring in transportation costs to central Punjab, the coal is now priced at around PKR 43,500-44,000 per ton for cement players. Afghan coal, which experienced a decline from PKR 56,000 per ton to PKR 50,000 per ton in the previous quarter, is expected to undergo further reduction.
The Afghan Government has made the decision to reduce export taxes on coal by USD 20 per ton, with the aim of bringing Afghan coal prices close to PKR 44,000 per ton and close to South African coal. This announcement was communicated through a tweet by Ministry of Mines and Petroleum of Afghanistan.
This decline in coal prices, amounting to approximately PKR 10,000 per ton, is expected to have a significant positive impact on cement margins. Efficient cement manufacturers typically utilize around 130 kilograms of coal to produce one ton of cement. Therefore, a PKR 10,000 per ton decrease in coal prices should result in an estimated PKR 1,300 per ton increase in profit before tax for cement firms. It is also important to note that most players also use a proportion of local coal in their mix with MLCF and PIOC using the highest amount of local coal. While we expect local coal prices to decline as well, the total decline might not be as large as prices are already low (we have assumed a PKR 5,000per ton decline in our short workings given below)
During the third quarter of FY23, profit before tax for cement companies ranged from PKR 1,200 to PKR 3,000 per ton. The reduction in coal prices, combined with a PKR 40 per ton increase in cement prices in the north zone over the past month, will contribute significantly to earnings going forward.
The following presents an estimated impact resulting from this decline in coal prices.
Error

Provided file /mnt/user_data/home/master/applications/chase-securities-new/public_html/wp-content/uploads/2023/08/estimated-impact-resulting-from-this-decline-in-coal-prices.xlsx does not exist!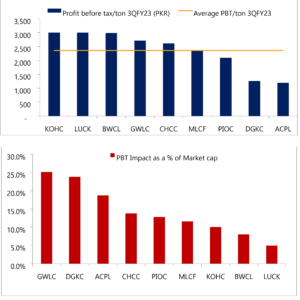 Over the past two years, cement players have demonstrated their ability to pass on cost increases and maintain or even increase their profit margins, despite sluggish demand. We anticipate that pricing discipline within the sector will continue.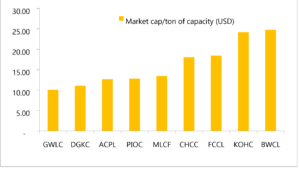 Our channel checks indicate that cement demand has risen to 125,000 tons per day in June, compared to 90,000 tons per day last month. We believe that increased public spending during the election year could help stabilize cement demand despite economic challenges. Following the announcement of an increase in the Public Sector Development Program (PSDP) by the Federal Government, the Sindh government has also declared a significantly higher development budget and raised the PSDP allocation to PKR 700 billion. Media reports suggest that while the budget for Punjab will only cover four months, PKR 325 billion will be allocated for PSDP spending on completing ongoing projects in Punjab over the next three months.
Important Disclosures
Disclaimer:
This report has been prepared by Chase Securities Pakistan (Private) Limited and is provided for information purposes only. Under no circumstances, this is to be used or considered as an offer to sell or solicitation or any offer to buy. While reasonable care has been taken to ensure that the information contained in this report is not untrue or misleading at the time of its publication, Chase Securities makes no representation as to its accuracy or completeness and it should not be relied upon as such. From time to time, Chase Securities and/or any of its officers or directors may, as permitted by applicable laws, have a position, or otherwise be interested in any transaction, in any securities directly or indirectly subject of this report Chase Securities as a firm may have business relationships, including investment banking relationships with the companies referred to in this report This report is provided only for the information of professional advisers who are expected to make their own investment decisions without undue reliance on this report and Chase Securities accepts no responsibility whatsoever for any direct or indirect consequential loss arising from any use of this report or its contents At the same time, it should be noted that investments in capital markets are also subject to market risks This report may not be reproduced, distributed or published by any recipient for any purpose.