In FY23, DOL reported a profit of PKR 1.400 billion (EPS: PKR 8.00), marking a substantial increase of 197% compared to the previous year's profitability of PKR 471 million (EPS: PKR 2.69).
Additionally, the company's revenue surged by 58% YoY to PKR 6.721 billion in FY23. Concurrently, the gross profit soared by 150% to PKR 2.756 billion. Notably, the company's exports experienced a remarkable growth of 257% to PKR 643 million in FY23, up from PKR 180 million during the corresponding period last year.
The cost of sales witnessed a significant rise of 26% to PKR 3.965 billion in FY23, up from PKR 3.149 billion in the previous year. Management emphasized the smooth supply of RLNG, constituting 60%-70% of the total cost.
Selling and distribution expenses increased by 184% during this period, while admin expenses rose by 37% in FY23. However, finance costs decreased to PKR 25.9 million from PKR 52.6 million due to the company's improved cash position.
The management revealed a price differential of PKR 40 to PKR 50 between DTRE and non-DTRE customers, with 60% of the market belonging to DTRE customers and the rest to non-DTRE customers.
The company's debt-to-equity ratio stands at 5:95. The current capacity of the plant stands at 41,300 MT and DOL expects to operate at the full capacity. Moreover, DOL has established an entity in the UAE to expand its global presence.
Sales volume in the North and South zones is divided by 60% and 40%, respectively. Management attributed the drop in prices to the off-season but anticipates improvements in the next quarter.
Despite potential new competitors entering the market, the company plans to leverage the gap of 68,000 tons created by the exit of Sitara Paroxide Limited. Around 28,000 tons are being imported into the country, with Engro expected to supply an additional 28,000 tons.
Going forward, the company aims for sustainable growth and plans to tap into the export market. Also, the management anticipates to take advantage of the gap created by the exit of a competitor, amounting to approximately 68,000 tons.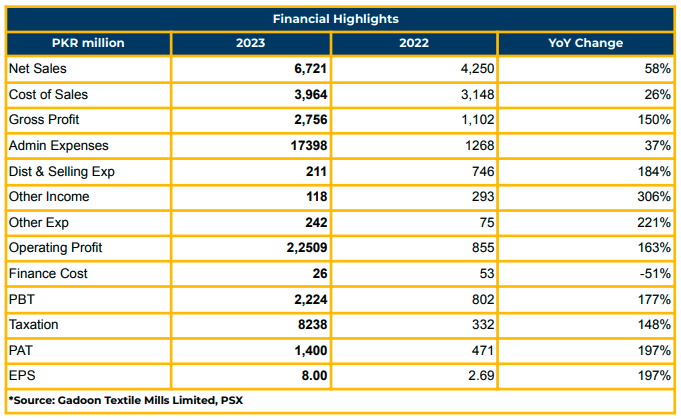 Important Disclosures
Disclaimer: This report has been prepared by Chase Securities Pakistan (Private) Limited and is provided for information purposes only. Under no circumstances, this is to be used or considered as an offer to sell or solicitation or any offer to buy. While reasonable care has been taken to ensure that the information contained in this report is not untrue or misleading at the time of its publication, Chase Securities makes no representation as to its accuracy or completeness and it should not be relied upon as such. From time to time, Chase Securities and/or any of its officers or directors may, as permitted by applicable laws, have a position, or otherwise be interested in any transaction, in any securities directly or indirectly subject of this report Chase Securities as a firm may have business relationships, including investment banking relationships with the companies referred to in this report This report is provided only for the information of professional advisers who are expected to make their own investment decisions without undue reliance on this report and Chase Securities accepts no responsibility whatsoever for any direct or indirect consequential loss arising from any use of this report or its contents At the same time, it should be noted that investments in capital markets are also subject to market risks This report may not be reproduced, distributed or published by any recipient for any purpose.