In 9MFY23, EFERT showcased a robust financial performance, reporting a significant profit of PKR 15.05 billion (EPS: PKR 11.27). This marked a remarkable 57% increase from the previous year's profitability of PKR 9.59 billion (EPS: PKR 7.19).
During this period, the company's top line experienced a substantial surge, reaching PKR 148.53 billion, signifyin a notable 34% YoY growth. Simultaneously, the gross profit soared to PKR 43.19 billion, reflecting a commendable 34% increase.
In 9MFY23, EFERT produced 1.72 KT urea and successfully sold 1.73 KT. This uptick in production (170KT) was attributed to improved efficiency resulting from last year's base plant turnaround of sixty days.
Despite a significant 34% rise in the cost of sales, totaling PKR 105.343 billion in 9MFY23, up from PKR 78.57 billion in the previous year, EFERT managed to keep finance costs down to PKR 1.64 billion, showcasing the company's improved cash position.
In the fertilizer industry, urea and phosphate experienced growth rates of 4% and 43% respectively in 9MFY23. However, EFERT's DAP market share dropped to 16% in 9MFY23 from the previous year's 24%. The domestic discount on urea prices stood at 54% as per management. Over the past decade, the fertilizer sector has extended significant benefits (gas price benefit) to farmers, amounting to over 4.5 times.
Management shared insights into ongoing negotiations with the government, focusing on the unification of gas prices and addressing challenges such as the smuggling of low-cost fertilizers, which have, however, been controlled in the last two months by the interim government.
EFERT's management shared that the IHC has issued a stay order against the recovery of an additional 6% tax in FY22. Additionally, the company faces challenges related to the recovery of outstanding sales tax refunds amounting to PKR 12.1 billion, as well as subsidy receivables from government totaling PKR 6.5 billion.
Going forward, EFERT is prepared for any fluctuations in gas prices and anticipates an increase in production by operating the plant at full capacity. The company is committed to maintaining an optimal debt-to-equity ratio.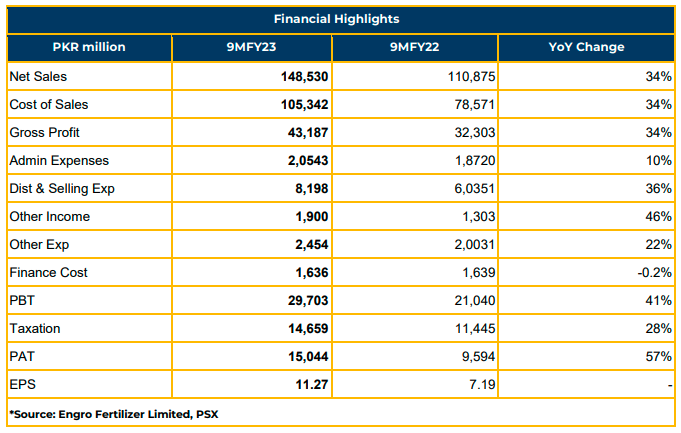 Important Disclosures
Disclaimer: This report has been prepared by Chase Securities Pakistan (Private) Limited and is provided for information purposes only. Under no circumstances, this is to be used or considered as an offer to sell or solicitation or any offer to buy. While reasonable care has been taken to ensure that the information contained in this report is not untrue or misleading at the time of its publication, Chase Securities makes no representation as to its accuracy or completeness and it should not be relied upon as such. From time to time, Chase Securities and/or any of its officers or directors may, as permitted by applicable laws, have a position, or otherwise be interested in any transaction, in any securities directly or indirectly subject of this report Chase Securities as a firm may have business relationships, including investment banking relationships with the companies referred to in this report This report is provided only for the information of professional advisers who are expected to make their own investment decisions without undue reliance on this report and Chase Securities accepts no responsibility whatsoever for any direct or indirect consequential loss arising from any use of this report or its contents At the same time, it should be noted that investments in capital markets are also subject to market risks This report may not be reproduced, distributed or published by any recipient for any purpose.