EPCL witnessed a 41% YoY decline in net profits, totaling PKR 5.47 billion (EPS: PKR 5.52 in 9MCFY23), a significant  drop from the previous year's PKR 9.34 billion (EPS: PKR 9.84). Meanwhile, the cost of sales increased by 10% YoY to PKR 46.46 billion during this period.
Company revenue remained stable around PKR 62.03 billion, showing a minute 0.4% YoY decline from the previous year. Simultaneously, gross profit reduced by 23% YoY to PKR 15.57 billion from PKR 20.17 billion in SPLY.
In 3QCY23, EPCL sold 19KT of liquid and 4KT of Flakes (Total 23KT of chlor Alkali). In 9MCY23, liquid and flakes sales were 51KT and 8KT respectively, lower than previous years.
EPCL exported 11KT of PVC and 4KT of caustic soda during 9MCY23. Due to lower core delta and depressed international prices, exports might not be a viable option, but the Company will continue exploring new markets. Vinyl sales increased QoQ to 68KT in 3QCY23 from 49KT
in 2QCY23, totaling 169KT in 9MCY23. The market breakdown for vinyl application was: Fittings (56%), Film & sheet (15%), Profile (8%), Cable Compound (8%), Shoe (6%), Flexible Hose (5%), Others (3%) in 9MCY23.
PVC international prices declined in 3QCY23 due to lackluster markets in China and India, impacting PVC prices. Ethylene prices also decreased due to higher spot availability from Asia and North America.
Higher volume growth was offset by declining international prices. Increased inflation rate, lower core delta, and adverse budgetary impacts affected the Company's profitability. The Hydrogen Peroxide project's completion, expected in early 2024, is anticipated to add PKR 1 billion to the Company's profits.
Despite a significant 43% decline, other expenses totaled PKR 1.79 billion in 9MFY23, down from PKR 3.15 billion the previous year. Other income also declined by 12% YoY to PKR 1.14 billion in 9MFY23. EPCL's finance costs rose to PKR 3.96 billion from PKR 2.20 billion due to higher policy
rates.
Profit before taxation decreased by 35% YoY to PKR 9.64 billion in 9MCY23, with taxation declining by 25% YoY to PKR 4.17 billion during the same period.
The management shared that 80% of gas supply is used for captive power generation plants.
Going forward, the Company anticipates operational sustainability and timely completion of ongoing projects.
Economic stability is expected to support operations, but bearish international prices might continue to impact PVC sales. Additionally, the anticipated increase in gas prices will raise the cost of doing business. EPCL also expects Ethylene and PVC prices to be affected by crude oil prices and OPEC+ decisions.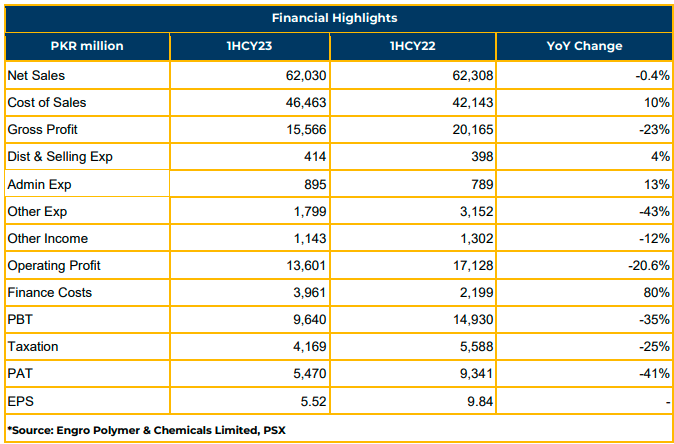 Important Disclosures
Disclaimer: This report has been prepared by Chase Securities Pakistan (Private) Limited and is provided for information purposes only. Under no circumstances, this is to be used or considered as an offer to sell or solicitation or any offer to buy. While reasonable care has been taken to ensure that the information contained in this report is not untrue or misleading at the time of its publication, Chase Securities makes no representation as to its accuracy or completeness and it should not be relied upon as such. From time to time, Chase Securities and/or any of its officers or directors may, as permitted by applicable laws, have a position, or otherwise be interested in any transaction, in any securities directly or indirectly subject of this report Chase Securities as a firm may have business relationships, including investment banking relationships with the companies referred to in this report This report is provided only for the information of professional advisers who are expected to make their own investment decisions without undue reliance on this report and Chase Securities accepts no responsibility whatsoever for any direct or indirect consequential loss arising from any use of this report or its contents At the same time, it should be noted that investments in capital markets are also subject to market risks This report may not be reproduced, distributed or published by any recipient for any purpose.