In 9MCY23, the company witnessed a growth of 28% YoY in net insurance premium to PKR1,158mn compared to PKR907mn in SPLY. Whereas, PAT clocked in at PKR75mn (EPS: PKR0.61/sh), down by 8% YoY in 9MCY23 against PKR81mn (EPS: PKR0.66/sh) in SPLY.
During the period, the company recorded a notable growth of 20% YoY in Overall Gross Underwritten Premiums during the noted period, with Conventional Premium Growth at 14% YoY and Takaful Premium Growth at 59% YoY, respectively. Moreover, the company has in
The company also experienced a substantial growth of 61% YoY in business premiums underwritten through its Broker Partners' Network.
Portfolio mix of the company comprises of 38% Motor, followed by 38% Fire, 13% Misc, 11% Marine and 0.3% GHP respectively.
As per management, the company implemented a strategic approach through a new Digital Channel, forming alliances and engagements with multiple Digital Partners and Insurance Aggregators. This initiative facilitated the offering of its retail insurance products through their Digital Platforms, resulting in a Gross Premium Underwritten of PKR17.4mn during the year.
Furthermore, HICL introduced a Corporate Customer Centric Motor Claims Portal for streamlined claim intimation and reporting of Corporate Fleets. Additionally, it ventured into underwriting Specialized Insurance Business Classes and actively participated in multiple Below-the-Line (BTL) Marketing activities to expand our footprint in the Auto Insurance Market.
The company entered into exclusive partnerships, collaborating with Indus Motor Company to offer the Toyota Protection Plan and with Changan for the Changan Care Protection Plan. These customized insurance products have been tailored for the respective customers of these automotive partners.
Moreover, the company expanded its local presence by establishing a dedicated Sales and Service Office in Karachi, reinforcing its marketing officers' team, and further enhancing service delivery.
In anticipation of the upcoming year, 2024, the Company acknowledged the inherent challenges posed by looming uncertainty surrounding local elections and global conflicts. However, the Company remains committed to progressing. The key focus includes expanding business cautiously and improving investment income to achieve better underwriting results.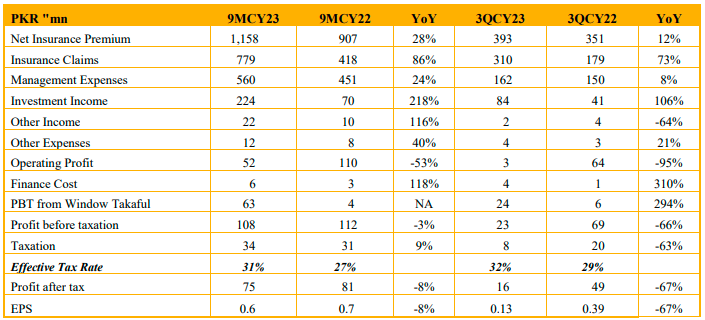 Important Disclosures
Disclaimer: This report has been prepared by Chase Securities Pakistan (Private) Limited and is provided for information purposes only. Under no circumstances, this is to be used or considered as an offer to sell or solicitation or any offer to buy. While reasonable care has been taken to ensure that the information contained in this report is not untrue or misleading at the time of its publication, Chase Securities makes no representation as to its accuracy or completeness and it should not be relied upon as such. From time to time, Chase Securities and/or any of its officers or directors may, as permitted by applicable laws, have a position, or otherwise be interested in any transaction, in any securities directly or indirectly subject of this report Chase Securities as a firm may have business relationships, including investment banking relationships with the companies referred to in this report This report is provided only for the information of professional advisers who are expected to make their own investment decisions without undue reliance on this report and Chase Securities accepts no responsibility whatsoever for any direct or indirect consequential loss arising from any use of this report or its contents At the same time, it should be noted that investments in capital markets are also subject to market risks This report may not be reproduced, distributed or published by any recipient for any purpose.