In 1QFY24, Image Pakistan Limited achieved a net profit of PKR 181.59 million (EPS: PKR 1.38), marking a significant increase from PKR 84.25 million (EPS: PKR 0.85) in the same period last year. Notably, the company experienced a 35% boost in sales and revenue through its e-commerce platform compared to physical outlets. The company's sales surged by 54% YoY, reaching PKR 793.69 million in 1QFY24, up from PKR 516.77 million in the previous year. The gross profit also saw a remarkable increase of 73%, totaling PKR 371.10 million.
Furthermore, the profit before tax more than doubled, reaching PKR 192.51 million, reflecting a growth of 114%. However, the cost of sales rose by 40% YoY to PKR 422.59 million in 1QFY24, compared to PKR 302.37 million in the same period last year. The finance cost of the company experienced a substantial increase of 179% YoY, reaching PKR 15.04 million in 1QFY24.
Inflationary pressures, minimum wage hikes, PKR devaluation, and a 24% YoY increase in distribution and 75% YoY increase in the administrative expenses also contributed to the challenges faced by the company. In FY23, Image posted local sales revenue of PKR 2.51 billion and exports worth PKR 184.99 million, culminating in a total sales revenue of PKR 2.70 billion, up by 57% YoY.
The gross profit and operating profit increased by 39% and 14% respectively. The return on equity (ROE) stood at 21.93% in FY23, and the company reported cash and equivalents amounting to PKR 49.14 million.
During FY23, the debt-to-equity ratio was reported at 12:88. The company possesses a robust asset base of PKR 3.6 billion. The Company attracted over six million unique visitors to its e-commerce website. Operating eleven physical outlets in major cities like Karachi, Lahore, and Islamabad, Image caters to a higher-income consumer segment.
The recent launch of the Reshamkari product line received a positive response due to its relatively lower price, leading to a 15%-20% increase in sales. Going forward, the management foresees a more profitable third and fourth quarter due to the seasonal increase in sales. The company has set ambitious sales targets of PKR 4 billion by next year and PKR 8 billion by FY28. The introduction of fragrance and cosmetic lines is also on the horizon.
The company intends to extend its footprint beyond metropolitan areas in Pakistan and establish subsidiaries in the UK and UAE. There are ongoing plans to open the twelfth outlet at Dolmen Mall in the DHA Lahore by 1HFY24. Furthermore, the Comapny aims to decrease reliance on third-party suppliers and improve operational efficiency by acquiring new equipment and machinery.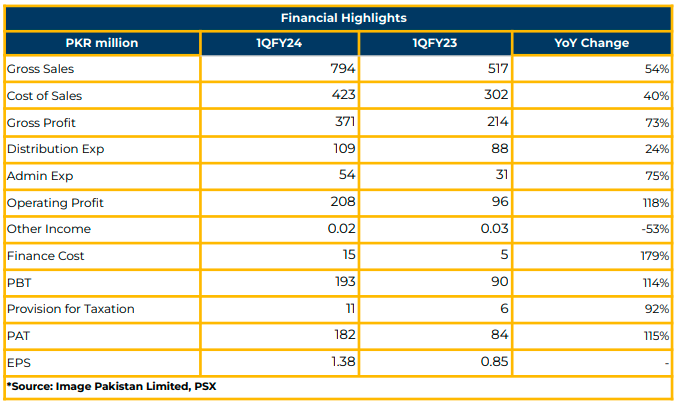 Important Disclosures
Disclaimer: This report has been prepared by Chase Securities Pakistan (Private) Limited and is provided for information purposes only. Under no circumstances, this is to be used or considered as an offer to sell or solicitation or any offer to buy. While reasonable care has been taken to ensure that the information contained in this report is not untrue or misleading at the time of its publication, Chase Securities makes no representation as to its accuracy or completeness and it should not be relied upon as such. From time to time, Chase Securities and/or any of its officers or directors may, as permitted by applicable laws, have a position, or otherwise be interested in any transaction, in any securities directly or indirectly subject of this report Chase Securities as a firm may have business relationships, including investment banking relationships with the companies referred to in this report This report is provided only for the information of professional advisers who are expected to make their own investment decisions without undue reliance on this report and Chase Securities accepts no responsibility whatsoever for any direct or indirect consequential loss arising from any use of this report or its contents At the same time, it should be noted that investments in capital markets are also subject to market risks This report may not be reproduced, distributed or published by any recipient for any purpose