In 1QFY24, Lucky Cement Limited saw a significant surge in net profitability by 179% to PKR 19.36 billion (EPS: PKR 57.8) from PKR 6.93 billion (EPS: PKR 16.85) in the same period last year. The boost was attributed to improved performance across all segments and local and foreign operations.
The company's total revenue increased by 17% to PKR 124.93 billion in 1QFY24, compared to PKR 107.22 billion the previous year. This growth stemmed from higher domestic cement sales and increased revenue from subsidiaries, LEPCL and LCI.
On a standalone basis, cement sales revenue surged by 49% to PKR 29.4 billion in 1QFY24 from PKR 19.7 billion in the previous year. Gross profit and after-tax profit jumped by 80% to PKR 10.8 billion and PKR 6.9 billion respectively. Operating profit and EBITDA also experienced significant increases of 104% and 86% respectively in 1QFY24. Additionally, the company's other income rose by 57% YoY to PKR 3.2 billion from PKR 2 billion in the previous year.
Domestic sales rose by 40% YoY to 1.8 million tons in 1QFY24 due to increased production capacity, while export sales increased by 25% YoY to 0.4 million tons. The devaluation of PKR, coupled with higher prices, drove the rise in cement sales. However, the export market share decreased to 21.5% in 1QFY24 from 29.5% in the SPLY.
Volumetric dispatches increased by 36.7% due to a low base effect and increased construction activities. The cost of carrying inventories was reported at PKR 36,000in 1QFY24 and is expected to rise in the coming quarters. The company's domestic market share increased to 17.5% from 14.8% in the SPLY, and clinker inventory levels stood at 45 days according to the management.
LCI recorded a 19% increase in net turnover to PKR 29 billion in 1QFY24. Successful commissioning of a 60,000 tons per annum Soda Ash business led to a 29% increase in net turnovers. However, the mobile phone market declined by 40% due to exchange rate volatility, and the
automobile sector faced significant declines due to higher taxes, interest rates, and inflation.
In a diversification effort, Company plans to invest PKR 3 billion in Lucky Core Ventures (Pvt) Limited (LCV), a wholly-owned subsidiary of LCI. The company also plans to acquire a majority shareholding in Lotte Chemical Pakistan Limited from Lotte Chemical Corporation South Korea.
Additionally, the company intends to invest PKR 1 billion in National Resources Limited for exploration in copper and gold in Balochistan over an area spanning 499.17 square kilometers, with a 33% shareholding in NRL, financed through a mix of equity and debt.
Furthermore, the company achieved the commissioning of a 25MW captive solar power plant in Karachi and expanded renewables in both Karachi and Pezu during 1QFY24. The solar power plant in Pezu is anticipated to be completed by the end of FY24. Company aims t to achieve 40%-45% of the company's total energy mix from renewable energy sources.
LEPCL maintained 100% plant availability in 1QFY24, and receivables stood at three and a half months.
Going forward, the management foresees continued pressure on profitability from the cement and mobile segments. Additionally, the auto sector is expected to further decline in FY24. However, LEPCL and LCI are anticipated to sustain their results in FY24, with LEPCL likely to pay dividends.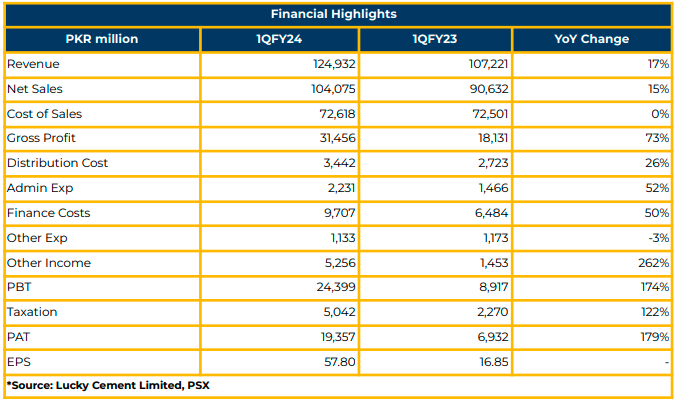 Important Disclosures
Disclaimer: This report has been prepared by Chase Securities Pakistan (Private) Limited and is provided for information purposes only. Under no circumstances, this is to be used or considered as an offer to sell or solicitation or any offer to buy. While reasonable care has been taken to ensure that the information contained in this report is not untrue or misleading at the time of its publication, Chase Securities makes no representation as to its accuracy or completeness and it should not be relied upon as such. From time to time, Chase Securities and/or any of its officers or directors may, as permitted by applicable laws, have a position, or otherwise be interested in any transaction, in any securities directly or indirectly subject of this report Chase Securities as a firm may have business relationships, including investment banking relationships with the companies referred to in this report This report is provided only for the information of professional advisers who are expected to make their own investment decisions without undue reliance on this report and Chase Securities accepts no responsibility whatsoever for any direct or indirect consequential loss arising from any use of this report or its contents At the same time, it should be noted that investments in capital markets are also subject to market risks This report may not be reproduced, distributed or published by any recipient for any purpose.