In FY23, MARI demonstrated significant growth in net profits, reaching PKR 56.13 billion (EPS: PKR 420.75), a substantial rise, 70% up YoY, from the previous year's net profitability of PKR 33.06 billion (EPS: PKR 247.84). Without super tax, the net profits would have been PKR 65 billion,as per management.
The net sales of the Company increased by 53% YoY to PKR 145.77 billion in FY23, the highest ever net sales. The net assets of the Company grew tremendously by 154% to PKR 22.1 billion during the period under review. The total assets clocked in at PKR 255 billion in FY23. The low net sales in 2QCY23 were attributed to turnarounds by fertilizer plants.
During the last three years, MARI experienced a 10% increase in the capacity due to the commissioning of SGPC, swing volume project, commencement of production from Ghazij and Horizontal wells. The total production capacity increased to 121 KBOEPD.
Besides, MARI experienced a growth in Reserves & Resources by 114% of which 62% is organic growth due to Mari Field, Abu Dhabi, and Bannu West.
Gas sales from Sachal Gas Processing Complex are recorded at 100 MMSCFD. The commissioning of SGPC and its connectivity with SNGPL network resulted in the monetization of Guru-B discovery.
MARI signed GPC, 55% stake by MPCL, for early production from Shewa-1 discovery . The management reported that more than 70% work has been completed in this regard. The first gas is expected in seven months from mobilization which is subject to the completion of SNGPL pipeline and conducive security environment.
Mari started drilling in November, 2022 at the exploratory well Mari Ghazij-1 after the hydrocarbon discovery at Ghazij. The drilling activities started at Appraisal well of Mari Ghazij-2 in September this year. Moreover, multiple wells are being planned to further appraise the Ghazij Reservoir. A full field development plan will be prepared based on the results of EWT and appraisal wells.
The Speen-1 exploratory well started drilling in February, 2023. However, the drilling was suspended in June, 2023 and probability of re-entry is being evaluated. The drilling of Maiwand-X-1 exploratory well is in progress with 2,228m drilling completed.
Shewa 2 Appraisal Well in North Waziristan has drilled down 4,143m and is expected to complete by April, 2024. After drilling, it will be connected to Shewa-1 ETF facilities.
On the other hand, the Spinwam-1 is expected to start drilling next month, for which the civil work was completed subsequent to year end. Likewise, Spinwam East is expected to start drilling activities by April 2024, for which pre-drilling activities have been started. The HSE performance is well above the international benchmarks and MARI has experienced one year without Lost Time Injury with the exposure of around 17million man hours.
Due to the first-ever drilling of horizontal wells (MARI – 122H and Mari – 123H) in HRL Reservoir, the Company achieved higher gas rate and higher Flowing Well Head Pressure. This project is expected to control depletion instead of increasing volumes. MARI's debottlenecking project or Pressure enhancement facilities are critical to enhance gas supply for fertilizer plants at desired pressure.
MARI expanded its exploration portfolio by winning four new blocks in October 2022 with 37% working interest in South Pishin, 40% in Shaigalu, 37% in Tanishpa and 40% in Lugai. Moreover, MARI achieved 44% working interest in Kalchas South Block. During the last three years, MARI achieved 16 new blocks and the total exploration acreage now stands at 68,290 square kilometers.
The drilling of the first appraisal well at Abu Dhabi Offshore block 5 is expected during 1QCY24. The Company has 25% working interest in this project.
In digitization, the company successfully integrated AI & ML techniques for maintenance strategies. Company distributed PKR 19.6 billion to shareholders in FY23.
Going forward, the Company anticipates potential risks from volatile exchange rate, circular debt, security challenges, supply chain disruptions and gas prices. Moreover, the Company plans to complete the on_going projects at Waziristan and Balochistan along with
production and portfolio enhancement projects.
Moreover, the Company informed that the MARI D&P Lease is expected to expire by November 2024. The Company is negotiating with the government and has already achieved the renewal. The Company is expected to pay 15% additional payment for this renewal in addition to royalties.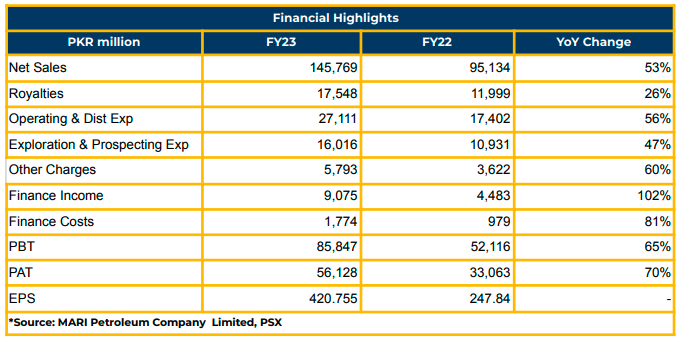 Important Disclosures
Disclaimer: This report has been prepared by Chase Securities Pakistan (Private) Limited and is provided for information purposes only. Under no circumstances, this is to be used or considered as an offer to sell or solicitation or any offer to buy. While reasonable care has been taken to ensure that the information contained in this report is not untrue or misleading at the time of its publication, Chase Securities makes no representation as to its accuracy or completeness and it should not be relied upon as such. From time to time, Chase Securities and/or any of its officers or directors may, as permitted by applicable laws, have a position, or otherwise be interested in any transaction, in any securities directly or indirectly subject of this report Chase Securities as a firm may have business relationships, including investment banking relationships with the companies referred to in this report This report is provided only for the information of professional advisers who are expected to make their own investment decisions without undue reliance on this report and Chase Securities accepts no responsibility whatsoever for any direct or indirect consequential loss arising from any use of this report or its contents At the same time, it should be noted that investments in capital markets are also subject to market risks This report may not be reproduced, distributed or published by any recipient for any purpose.