In 1QFY24, Pakistan Paper Products Limited achieved a net profit of PKR 32.7 million (EPS: PKR 4.09), marking a significant increase of 582% YoY from PKR 4.79 million (EPS: PKR 0.60) in the SPLY. The management attributed the increase in profitability to the price increases.
The net sales of the Company increased by 23% YoY to PKR 443.61 million in 1QFY24 compared to PKR 361.47 million in SPLY. The cost of sales increased by 13% to PKR 355.91 million. Admin and distribution expenses increased by 24% YoY and 3% YoY to PKR 13.47 million and PKR 4.76 million respectively during the period under review.
The operating profit jumped by 116% YoY to PKR 66.14 million in 1QFY24. The finance cost of the Company was registered at PKR 21.62 million, which the Company expects to decrease in the next year due to the expected lower interest rates by the State Bank of Pakistan.
In FY23, PPP experienced a turnover and net sales of PKR 1.92 billion and PKR 1.75 billion respectively. Similarly, the bottom line of the Company increased by 44% YoY to PKR 89.03 million compared to PKR 61.74 million during the SPLY. The management announced a 40% cash dividend during the same period as compared to 25% in FY22.
The revenue breakup for each segment was as follows: Pro Label (PKR 986.66 million), Exercise Books (PKR 731.64 million), and Sensitized Paper (PKR 27.60 thousand) in FY23.
The turnover for each segment increased by: Pro-label (56.51%), Exercise Books (41.91%), Sensitized Paper (0.39%), Plain Paper (1.07%), and others (0.12%) in FY23.
Although the increase in Exercise books sales was primarily price-driven, the fall in volumes was attributed to the seasonal decline in sales due to the floods in Pakistan last year.
The Company passed on the price increases to the customers. However, the Company witnessed growth due to the fall in Pulp prices, which offset the PKR devaluation.
The restrictions on LC disrupted the supply of raw materials, leading to the loss of some customers. However, the brand loyalty and excellent customer service caused the company to achieve higher sales once the LC restrictions were lifted off.
The Company plans to shut down the Sensitized Paper plant completely after consuming the current inventory levels as it has become obsolete and replaced with plotter printers. The Company does not do any value addition in this alternative as it is affected by price fluctuations in the international market.
The segment-wise capacity utilization was as follows: Exercise Books (100%), Pro-Labels (142%), and Sensitized and other (7%).
In FY23, the key ratios were reported as current ratio, 1.83, ROE (8.04%), ROA (5.07%), breakup value per share (PKR 138.43), inventory turnover ratio (4.15), and total asset turnover (0.99). The net operating cycle days were registered at 105 days. Shareholder's equity increased to PKR 602.63 million as compared to PKR 138.43 million in SPLY.
PPP procures 90% of the raw material for Exercise books from indigenous sources against 99% procurement for Pro-label from other countries, mainly from China. The major supplier of raw material was Century Paper & Board Mills Limited. The Company enjoys Zero rating on Exercise Books. The suppliers sell raw material without any sales tax.
Going forward, the management foresees solid growth in the demand for exercise books and pro-label business. The Company has booked orders for Exercise Books until January.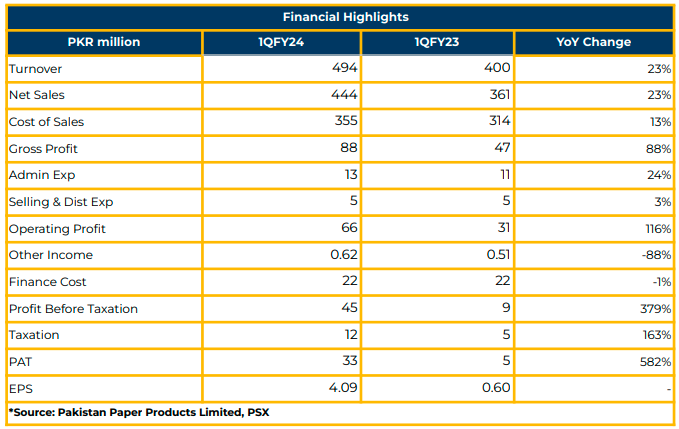 Important Disclosures
Disclaimer: This report has been prepared by Chase Securities Pakistan (Private) Limited and is provided for information purposes only. Under no circumstances, this is to be used or considered as an offer to sell or solicitation or any offer to buy. While reasonable care has been taken to ensure that the information contained in this report is not untrue or misleading at the time of its publication, Chase Securities makes no representation as to its accuracy or completeness and it should not be relied upon as such. From time to time, Chase Securities and/or any of its officers or directors may, as permitted by applicable laws, have a position, or otherwise be interested in any transaction, in any securities directly or indirectly subject of this report Chase Securities as a firm may have business relationships, including investment banking relationships with the companies referred to in this report This report is provided only for the information of professional advisers who are expected to make their own investment decisions without undue reliance on this report and Chase Securities accepts no responsibility whatsoever for any direct or indirect consequential loss arising from any use of this report or its contents At the same time, it should be noted that investments in capital markets are also subject to market risks This report may not be reproduced, distributed or published by any recipient for any purpose.