In the fiscal year 2023, Shezan International Limited encountered a significant setback in net profitability, experiencing a 51% decline to PKR 38.77 million (EPS: PKR 4.01) from PKR 79.92 million (EPS: PKR 8.27) in the same period last year.
The company's overall revenue, however, saw a 7% uptick, reaching PKR 8.75 billion in FY23 compared to PKR 8.17 billion the previous year. Juices & drinks contributed PKR 7 billion, whereas other products like pickles, jams, and ketchup contributed PKR 1.7 billion to the revenue in FY23.
Shezan International Limited experienced a 40% growth in export sales, translating to a 17% growth in dollar terms. Cooked food, juice packs, bottled juices, and ketchup were the primary contributors to the company's export sales.
Operating costs increased due to a rise in prices of raw material and packaging material, along with an increase in minimum wages. Despite these challenges, the gross profit of the company increased by 17% to PKR 6.67 billion in FY23 from PKR 6.39 billion in the previous year. The operating profit also saw a significant boost, rising by 58% YoY to PKR 333.32 million from PKR 210.79 million during the same period last year.
Finance costs for SHEZ surged by 135% YoY to PKR 279.65 million from PKR 119.19 million, primarily due to increased interest rates and mark-up rates. The company's contribution to the national exchequer in FY23 amounted to PKR 133.04 million, marking a 25% increase from the previous year's taxes of PKR 106.48 million.
The profitability of the company in the 4QCY23 was adversely affected by the Federal Excise Duty (FED), which imposed a 20% excise tax on carbonated beverages. Additionally, major raw materials such as pulp and sugar experienced significant price hikes during this period.
Going forward, Shezan International Limited anticipates continued pressure on gross margins due to expected increases in sugar and gas prices. Despite this, the management remains optimistic about a demand uptick in the upcoming season. Moreover, the company plans to explore potential markets both locally and internationally. Shezan plans to introduce new products, including recipes and mineral water in March next year. Moreover, mayonnaiseexpected to be launched within the next two months.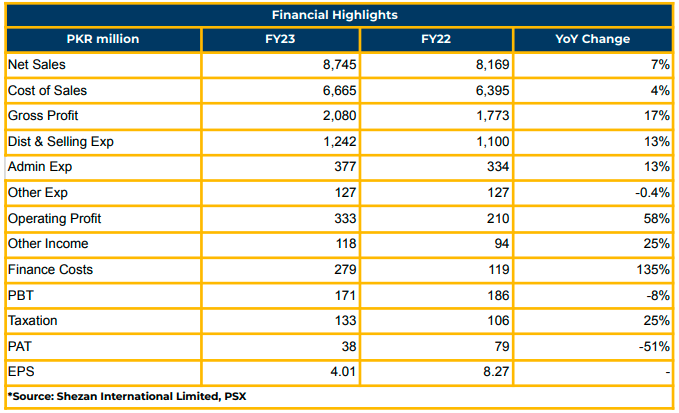 Important Disclosures
Disclaimer: This report has been prepared by Chase Securities Pakistan (Private) Limited and is provided for information purposes only. Under no circumstances, this is to be used or considered as an offer to sell or solicitation or any offer to buy. While reasonable care has been taken to ensure that the information contained in this report is not untrue or misleading at the time of its publication, Chase Securities makes no representation as to its accuracy or completeness and it should not be relied upon as such. From time to time, Chase Securities and/or any of its officers or directors may, as permitted by applicable laws, have a position, or otherwise be interested in any transaction, in any securities directly or indirectly subject of this report Chase Securities as a firm may have business relationships, including investment banking relationships with the companies referred to in this report This report is provided only for the information of professional advisers who are expected to make their own investment decisions without undue reliance on this report and Chase Securities accepts no responsibility whatsoever for any direct or indirect consequential loss arising from any use of this report or its contents At the same time, it should be noted that investments in capital markets are also subject to market risks This report may not be reproduced, distributed or published by any recipient for any purpose.