In FY23, SCL demonstrated strong financial growth, reporting a significant profit of PKR 144.96 million (EPS: PKR 37.17), a substantial increase from the previous year's PKR 17.76 million (EPS: PKR 4.55).
During this period, the company's revenue surged remarkably, reaching PKR 4.36 billion, indicating a notable 64% YoY growth from PKR 2.66 billion in the previous year. Simultaneously, the gross profit rose significantly to PKR 1.13 billion, reflecting a commendable 77% increase.
This surge in revenue was attributed to higher product prices and increased volumes. The Company's gross profit also rose by 77.40% due to substantial price increases.
However, there was a significant 59% increase in the cost of sales, totaling PKR 3.23 billion in FY23, up from PKR 2.02 billion the previous year. Shield Corporation also experienced a rise in finance costs, increasing to PKR 203.13 million from PKR 85.04 million due to higher policy rates and increased use of financing facilities.
Furthermore, the Company expanded its product portfolio by launching new baby toiletries, tapping into a market worth PKR 3 billion. Additionally, two new products, sensitive and herbal toothpaste, were introduced in FY23.
SCL initiated an awareness campaign on World Oral Health Day, reaching 15,840 patients in seven cities in FY23.
Regarding expansion, the Company is exploring export markets in Europe, the Far East, and Africa. While currently exporting a minimal percentage to African countries, SCL anticipates repeat orders this year.
The Company aims to achieve a revenue target of PKR 10 billion in the coming years by diversifying products and expanding into export markets. Furthermore, SCL plans to explore E-Commerce options to boost future sales. However, inflation and higher interest rate will remain Key challenges for the Company.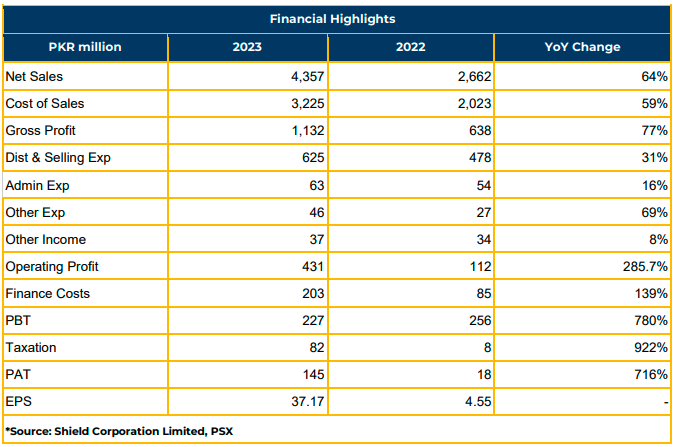 Important Disclosures
Disclaimer:This report has been prepared by Chase Securities Pakistan (Private) Limited and is provided for information purposes only. Under no circumstances, this is to be used or considered as an offer to sell or solicitation or any offer to buy. While reasonable care has been taken to ensure that the information contained in this report is not untrue or misleading at the time of its publication, Chase Securities makes no representation as to its accuracy or completeness and it should not be relied upon as such. From time to time, Chase Securities and/or any of its officers or directors may, as permitted by applicable laws, have a position, or otherwise be interested in any transaction, in any securities directly or indirectly subject of this report Chase Securities as a firm may have business relationships, including investment banking relationships with the companies referred to in this report This report is provided only for the information of professional advisers who are expected to make their own investment decisions without undue reliance on this report and Chase Securities accepts no responsibility whatsoever for any direct or indirect consequential loss arising from any use of this report or its contents At the same time, it should be noted that investments in capital markets are also subject to market risks This report may not be reproduced, distributed or published by any recipient for any purpose.