In 1HCY23, Bank of Khyber (BOK) reported a remarkable 332% increase in profitability, reaching PKR 1.7 billion (EPS: PKR 1.53) compared to PKR 391 million (EPS: PKR 0.35) in SPLY. This outstanding performance was driven by a 70% YoY increase in Net Interest Income, totaling PKR 5.976 billion during the same period.
BOK achieved this by strategically managing its profit reprofiling, improving the deposit mix, increasing deposits, and reducing borrowing, all contributing to the higher net interest income in 1HCY23.
While non-markup expenses increased by 22% to PKR 3.74 billion in 1HCY23, non-markup income saw an impressive 94% growth, reaching PKR 1.267 billion. This substantial increase in non-markup income was primarily attributed to the rise in forex income (332%) and fee & commission income (29%) in 1HCY23.
The significant growth in Profit Before Tax (PBT) by 422% and Profit After Tax (PAT) by 322% can be attributed to the substantial increase in income streams and reduced provision charges in 1HCY23.
Previously, government deposits had a larger share compared to private deposits. However, in 1HCY23, BOK's management strategically rearranged the deposit mix, significantly increasing the share of private deposits to PKR 121 billion in FY23, up from PKR 108 billion in FY22.
Moreover, Current and Savings Accounts (CASA) experienced remarkable growth, reaching PKR 196 billion, with current deposits reaching a historic high of PKR 63.347 billion in 1HCY23.
The management at BOK emphasized that their sustainable management approach and long-term rebranding strategy played pivotal roles in achieving significant growth over the past two years.
Bank of Khyber has been actively expanding its branch network both within and outside of Khyber Pakhtunkhwa (KPK). Currently, the bank operates branches in KPK (160), Punjab (38), ICT (18), Sindh (13), Baluchistan (7), and AJK & Gilgit (3).
In response to the interest rate hike in 1HCY23, BOK reprofiled its investment mix, comprising PIBs Floater (53%), PIBs Fixed (16%), T-Bills (9%), and other investments (21%).
In the realm of digital banking, BOK embarked on a joint venture with LMKR and Mastercard to launch a ticketing system for the BRT Peshawar project. This tap-and-go initiative is set to commence in FY24.
Additionally, BOK joined forces with Mastercard to promote financial inclusion and expand digital financing services, with plans to complete this project in two phases this year. Phase 1 involves issuing virtual cards, followed by the issuance of physical cards.
During 1HCY23, Bank of Khyber witnessed significant growth in digital transactions and app users, with an 86% and 47% increase, respectively. In June 2023, the bank secured the top position in the category of small banks. Islamic banking and conventional banking each hold a 50% share, as per management.
Going forward, BOK's management remains focused on maintaining its higher long-term rating at A plus and expanding its digital banking services. The bank plans to further expand its branch network to reach 243 branches in FY23 by opening 12 new branches this year. Also, The primary focus is on reducing the cost of deposits in future.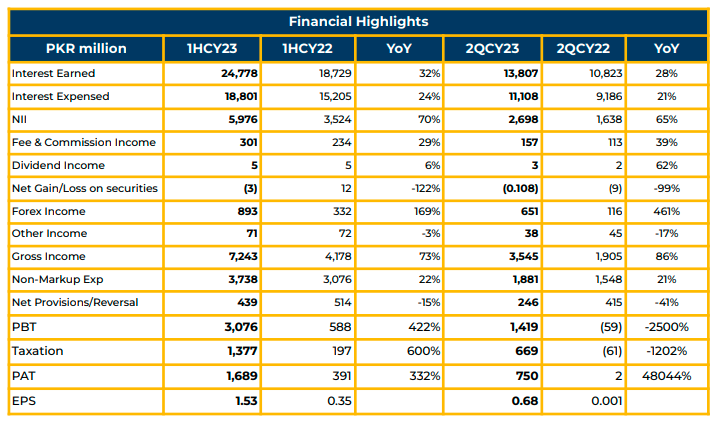 Important Disclosures
Disclaimer: This report has been prepared by Chase Securities Pakistan (Private) Limited and is provided for information purposes only. Under no circumstances, this is to be used or considered as an offer to sell or solicitation or any offer to buy. While reasonable care has been taken to ensure that the information contained in this report is not untrue or misleading at the time of its publication, Chase Securities makes no representation as to its accuracy or completeness and it should not be relied upon as such. From time to time, Chase Securities and/or any of its officers or directors may, as permitted by applicable laws, have a position, or otherwise be interested in any transaction, in any securities directly or indirectly subject of this report Chase Securities as a firm may have business relationships, including investment banking relationships with the companies referred to in this report This report is provided only for the information of professional advisers who are expected to make their own investment decisions without undue reliance on this report and Chase Securities accepts no responsibility whatsoever for any direct or indirect consequential loss arising from any use of this report or its contents At the same time, it should be noted that investments in capital markets are also subject to market risks This report may not be reproduced, distributed or published by any recipient for any purpose.