In the fiscal year 2023, the Company's gross premium increased by 9% YoY, reaching PKR 1.976 billion compared to PKR 1.808 billion in the same period last year.
The net earned premium also witnessed a 9% YoY growth, amounting to PKR 1.546 billion, up from PKR 1.424 billion in the previous year. Notably, both net claims and net commissions decreased by 4% and 25%, respectively, in FY23.
Overall expenses of the Company saw a 13% YoY increase, totaling PKR 770 million. This increase in other income (PKR 222 million) was attributed to a cash dividend of PKR 33 million and higher interest rates.
The Company reported a profit before tax of PKR 128 million in FY23, a significant improvement compared to the loss of PKR 65 million in the previous fiscal year.
The breakdown of the Company's Gross Written Premium (GWP) in FY23 includes Motor Renewal (22%), Motor Fresh (20%), Health (6%), Marine (5%), Miscellaneous (17%), Property (80%), and Agri/Livestock (-14%).
Motor claim ratio remained stable at 43%, while the claim ratios for marine, miscellaneous, and property decreased by (-9%), (- 19%), and 40%, respectively. These reductions were primarily due to adjustments in reserves and recoveries. However, the health claim ratio increased by 11%, mainly due to a higher frequency of claims.
The significant devaluation of the currency resulted in increased claims costs, expense ratios, and payments abroad in USD. Both the auto and marine industries were negatively impacted by fiscal and exchange measures. However, the revaluation of assets contributed to an increase in the Company's premium.
Management identified three key challenges in arranging reinsurance capacities, namely (i) international pressure, (ii) tightening of coinsurance business due to losses, and (iii) a significant increase in the sum insured values of insurable risks.
The 51% decline in the auto industry had a 37% impact on TPLI. Consequently, the Company shifted its focus toward older cars, generating 71% of volumes compared to 38% in the previous year. The number of old cars insured increased by 40%, with the average sum insured for both old and new cars rising by 21% and 59% YoY, respectively.
The Company's new auto financing relationships amounted to PKR 2.3 billion. Additionally, TPLI introduced new products in collaboration with banks, such as cyber liability (PKR 26 million), fixed assets & plastic cards (PKR 1.5 million), account holder health (PKR 12 million), and wallet insurance (PKR 14 million). Other agreements in the pipeline include solar, bike, mobile, personal cyber, and card alliances.
TPLI took a significant step by insuring 650 animals under the Cattle Fattening model, launching Pakistan's first cattle insurance. The reactivation of tractor insurance resulted in profits, with a loss ratio of less than 10%. Furthermore, TPLI launched a second pilot for Area Yield Index Insurance, with a value of PKR 19 million. The Company also expanded its motor portfolio, achieved 50% growth in the Fire business, and generated PKR 10 million in CLIS.
Going forward, the Company's focus will remain on innovation, technology-driven solutions, lifestyle products such as appliances and gadgets, the agriculture segment, and diversification of its portfolio.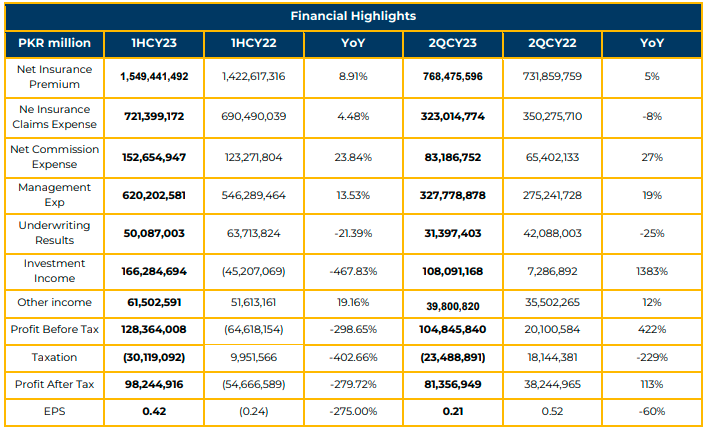 Important Disclosures
Disclaimer: This report has been prepared by Chase Securities Pakistan (Private) Limited and is provided for information purposes only. Under no circumstances, this is to be used or considered as an offer to sell or solicitation or any offer to buy. While reasonable care has been taken to ensure that the information contained in this report is not untrue or misleading at the time of its publication, Chase Securities makes no representation as to its accuracy or completeness and it should not be relied upon as such. From time to time, Chase Securities and/or any of its officers or directors may, as permitted by applicable laws, have a position, or otherwise be interested in any transaction, in any securities directly or indirectly subject of this report Chase Securities as a firm may have business relationships, including investment banking relationships with the companies referred to in this report This report is provided only for the information of professional advisers who are expected to make their own investment decisions without undue reliance on this report and Chase Securities accepts no responsibility whatsoever for any direct or indirect consequential loss arising from any use of this report or its contents At the same time, it should be noted that investments in capital markets are also subject to market risks This report may not be reproduced, distributed or published by any recipient for any purpose