In the fiscal year 2023, the company reported a loss of PKR 229 million (LPS: PKR 0.86), in contrast to the profit of PKR 22.86 million (EPS: PKR 0.61) in the same period last year (SPLY). However, the company's net revenue surged by 18.87% to PKR 2.785 billion during this period, driven by significant growth in Industrial Internet of Things (IIoT).
Cost of sales and administrative expenses saw an increase of 11.92% and 16.76% in FY23, respectively. Additionally, finance costs rose by 79.14% to PKR 559 million due to higher interest rates and KIBOR rates. Despite these challenges, the company experienced an upswing in operating profit to PKR 259.3 million in FY23, mainly attributed to improved gross profit margins.
Here's a breakdown of the revenue performance by segments: Telematics: A 15% YoY decrease; IIOT: A remarkable 211% YoY increase; STE (Software and Technology Enabled Services): A 50% YoY increase; Auto Hardware & Navigation: A 28% YoY decrease; TME (Telecommunication and Mobile Equipment): A notable 61% YoY increase.
Notably, the company introduced Astra Location Services in FY23, generating 150 million in revenue.
On a standalone basis, the company's topline and operating profit showed growth of 7% and 21% YoY in FY23. However, finance costs soared by 72% to PKR 536 million due to higher interest rates, resulting in a loss of PKR 42 million for the year, compared to a profit of PKR 197 million in SPLY.
In Telematics, the company secured several fleet tracking and analytics deals with leading brands. It also won tenders for SNGPL, PKLI, and waste management companies. Discussions are underway for providing IVMS solutions for Al Shaya Group's fleet in the UAE.
In IIOT, TPL Trakker supplied Dashcam solutions to Daraz and offered solutions to various telecom companies and banks in Pakistan.
In the auto business, progress is being made on the AlHaj Group Proton Saga project, and discussions are ongoing for installing built-in trakkers in Stonic vehicles.
In FY23, the company initiated new projects, including E-Sales and tracking & monitoring of TP cargo for 20 locations. The Taftan project, originally scheduled for completion in Q4FY24, faced delays. TP trade through the Sost border is expected to commence soon.
In July 2022, the company launched the TPL Maps app, separate from its core business. The app offers geospatial analytics and AI for navigation, covering eight million homes & businesses and data from 380 cities. Revenue for the app increased from PKR 52 million in 1HCY23 to PKR 109 million in 2HCY23, promising improved customer experiences, fuel cost optimization, and public transport tracking.
TPL Maps also leveraged AI and advanced algorithms for efficient supply chain management, fraud prevention, and security in the banking and fintech sectors.
Going Forward, TPL Trakker faces challenges such as high business costs, devaluation, and increased SMS charges, alongside other macroeconomic challenges. The company aims to enter GCC markets following a 30% growth in the UAE. Cost reduction through digitization is part of their strategy.
TPL Maps plans to explore opportunities in the MENA region for distribution, logistics, and rapid delivery. Additionally, they will focus on SaaS-based enterprise projects in their short-term plans.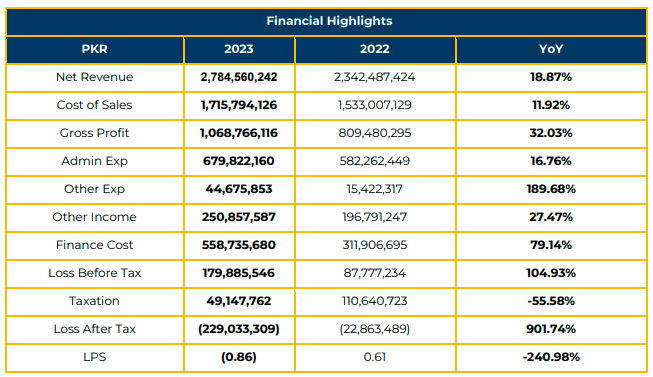 Important Disclosures
Disclaimer:This report has been prepared by Chase Securities Pakistan (Private) Limited and is provided for information purposes only. Under no circumstances, this is to be used or considered as an offer to sell or solicitation or any offer to buy. While reasonable care has been taken to ensure that the information contained in this report is not untrue or misleading at the time of its publication, Chase Securities makes no representation as to its accuracy or completeness and it should not be relied upon as such. From time to time, Chase Securities and/or any of its officers or directors may, as permitted by applicable laws, have a position, or otherwise be interested in any transaction, in any securities directly or indirectly subject of this report Chase Securities as a firm may have business relationships, including investment banking relationships with the companies referred to in this report This report is provided only for the information of professional advisers who are expected to make their own investment decisions without undue reliance on this report and Chase Securities accepts no responsibility whatsoever for any direct or indirect consequential loss arising from any use of this report or its contents At the same time, it should be noted that investments in capital markets are also subject to market risks This report may not be reproduced, distributed or published by any recipient for any purpose.